Have you ever heard the phrase, "We don't like to brag, but…."? Well, we do like to brag. But we will let the visitors to Red River, New Mexico do that for us. We don't just have guests in Red River – we have an extended family that comes to stay with us a while.
Visiting Red River any time of the year is a great family fun trip or the perfect getaway with a few friends – including the furry ones! We are a small mountain town with great accommodations for you. From fun and food, to fast asleep!
Fun in Red River,NM
If there's one thing Red River has, it's FUN!
If hunting and fishing are what you love, we've got the best. Licenses are available at Red River Angler and Sport on Main Street. You can even book a guided fishing tour. Red River visitors absolutely love what they can learn on their trip!

Of course, come winter, there's no better place than Red River, NM for skiing! And don't worry about maxing out your trunk space or going over the 50-pound baggage limit on your flight – you can head to Sitzmark Sports to rent all the gear you'll need for skiing and snowboarding, down to the jackets and goggles! Guests rave about the top-notch service they received and how much fun they had!

Looking for some adrenaline-pumping adventure in the summer months? Take a drive just a little outside of Red River and check out Far Flung Adventures for a white-water rafting excursion! Don't worry – if relaxing is more your thing, they also offer more laid-back floating adventures. Guests rave that Far Flung has great guides and the best experience!

Our nightlife will keep the party going. Prepare to dance, laugh, and have an amazing time at The Motherlode Saloon. Step back in time – with plumbing and electricity, of course, and a fabulous sound system for dancing or just sitting and listening.

Food in Red River, NM
Guests and locals alike praise the food Red River has to offer. If you ask them what their favorite is, there's no unanimous answer because there's so much to love! Shotgun Willie's Cafe is very popular, especially for breakfast. The portions are hefty, the service is friendly, and there's a great atmosphere!

Some local pet-friendly restaurants are here too! Bull O' The Woods Saloon is one of them. They have such great food AND fun nightlife, we didn't even know which category to put them in!

Red River Brewing Company also welcomes you and your pets. In Red River, we are as fond of dogs as we are kids! We will even serve them a bowl of water (the pets, not the kids – they can have a glass). With great beer and amazing food, you're sure to leave with a happy tummy and a smile on your face!

Fast Asleep in Red River
One way to make your stay in Red River perfect is to book with Reservations Unlimited! According to the guest's reviews, check-in and check-out are super simple, helping you get to the fun faster!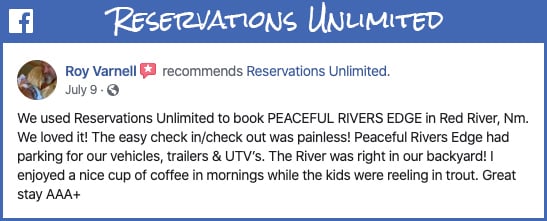 Can you imagine what fun you would have if you and all of your closest friends or family came together to enjoy an amazing place as Red River? We have rentals for 1 guest, 2 guests, 10 guests… even up to 23 guests! For example, Casa Contenta – it's the perfect retreat for a group. An entire cabin, just for your guests – with a large kitchen, an outside sitting area for relaxing way to end your perfect day in Red River. That would be an outing to remember.
You coordinate your friends or family on your end – and we will take care of the fun and accommodations from there!